Pradeep Nigam, Founder & CEO
Pradeep Nigam, MBA with 34 years of entrepreneurial experience in an accomplished business leader, skilled in aligning operations and strategy, with a proven record of achievement and motivation.Pradeep is Founder and CEO of Global Business Consulting Services, Inc. Incorporated in year 2003, GBSC won number of recognitions under his leadership.
Prior to GBCS, Pradeep was Executive Vice President atMelstar, where he build strong and successful organization in US, UK, Europe and India. He was responsible for Company's organic and inorganic growth and instrumental in establishing JVs in Switzerland -ITC, UK – Linkhand and The Summit Group in US. He also worked with Keonics (KMCL) as General Manager heading India operations.
Pradeep is a speaker at various conferences and seminars. To his credit are various papers published on Management in International journals.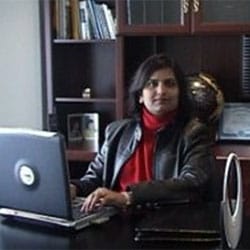 Dr Hema Nigam, Founder & CFO
GBCS's Finance and Back Office Operations Departments are directed by Hema Nigam. She is co-founder and CFO since 2003. Hema has 14 years of experience working at USPS, Macy's and Kmart before joining GBCS. Hema has extensive knowledge in Financial Management, Accounting and Operational Processes.Hema earned herPhD from Bangalore University, India.
Richard Helm, Executive Director
Richard has been on GBCS advisory board since 2003. After his retirement from Orange, Richard joined GBCS as Executive Direction. Currently, Richardheads all client engagements of the company.
Jessica Dunn, Vice President, Sales
As the Vice President of Sales for GBCS, Jessica Dunn's areas of expertise are new client development initiatives for existing markets, hiring and training next generation IT professionals, and collaboration with existing client IT teams to adapt GBCS's value with the ever-changing needs of a technology driven IT marketplace. Jessica joined GBCS in 2007 and has risen to senior level management by demonstrating success in building relationships with corporate management within fortune 500 companies. Prior to joining GBCS, Jessica served as Staffing Analyst for Citigroup, where she was responsible for managing and on boarding the North America technical contingent workforce. These responsibilities included sourcing and screening candidates through preferred suppliers, managing internal contingent worker staffing process, and negotiating and initiating work orders. In addition to working with CITIgroup, Jessica was in Human Resources at Odyssey Pharmaceuticals and started her career at HRSoft in Sales. Jessica is a Graduate of Centenary College with a BS in Business.